---
Reading time: 8 minutes
---
On Wednesday 11th March 2020, the World Health Organisation (WHO) declared the Coronavirus, now known as COVID-19, to be a pandemic. What started as an initial outbreak in the Chinese city of Wuhan has quickly spread to an estimated 118 countries. In that time, global stock markets have lost trillions in value, trade and travel have halted, sporting events have been cancelled, and entire countries have been put under lockdown. It is clear that COVID-19 has caused widespread social, economic and political panic.
Bill Gates has long highlighted a threat like COVID-19 as being a major risk that should be planned for.
So exactly how do we plan for a pandemic like COVID-19? Could the answer be a contactless society that will change the way we work?

Let's weigh up some of the measures taken so far that seem to support this notion:
The message to the general public has been to wash our hands, thoroughly and regularly. This is to ensure that COVID-19 cannot be transferred by contact from person-to-person or from object-to-person;

International travel bans have been put in place, schools and universities closed and sporting events cancelled. These are all examples of quarantine measures put in place to stop the spread of COVID-19. In short, quarantine by design removes contact;

In China and South Korea, the Central Banks have taken the decision to literally launder and destroy the physical cash in circulation. This act removes the likelihood of a person coming into contact with physical cash carrying COVID-19; and

The WHO has advised the general public not to use physical cash and to make use of contactless payments instead. This has been embraced by the Louvre Museum which is currently not accepting any physical cash payments.
---
The above measures have been designed to mitigate physical contact in order to prevent the spread of COVID-19. The focus thereafter becomes two-fold. Firstly, will these measures change the long-term behavior of the general public, consumers and companies? Secondly, will the changes in long-term behaviour align to the current digital revolution?
---
The actions taken by DBS Bank (DBS) in Singapore seem to suggest that the answer to these questions could be a resounding yes. DBS has already outlined a series of digital measures designed to give its customers "contact free" banking, as a result of COVID-19. To remain competitive other global companies will need to introduce similar measures. Two such measures could come in the form of: (1) Contactless Payments and (2) Contactless Relationships.
---
Contactless payments are already available to consumers via multiple providers like Apple Pay, Samsung Pay, WeChat and AliPay. If more and more companies chose not to accept physical cash in the long term, it could force consumers to look at alternatives such as contactless payment services. Similarly, a behavioural change by both consumers and companies to no longer use physical cash, could cause Central Banks to fast track the introduction of digital currencies, to be known as Central Bank Digital Currency (CBDC). Outside of government it has been well documented that Facebook plans to introduce its own digital currency, known as Libra. The introduction of digital currencies would be a major technological advancement and a significant step towards a contactless society. This would, however, require major development in terms of building the appropriate infrastructures needed to remove physical cash from circulation and thereafter ensure the operational stability of a CBDC or digital currency.
---
The demand for contactless relationships may be attributed to the behavioural changes introduced mostly by millennials and the digital revolution that is taking place. The results of which have seen a number of technological advancements. For example, consumers can now make use of services that are convenient and require far less or even no direct human contact. An example would be the introduction of RegTech solutions like a Digital Client On-Boarding Tool. Such a tool is able to identify and verify a customer via an ID number and/or Facial Recognition. There is no longer a need for a consumer to: physically visit a branch or office, provide fingerprint biometrics or provide hard copies of key documents. These tools drive contactless relationships and should not be impacted by a pandemic such as COVID-19. Partnerships with reliable 3rd Party Verification Providers, with offerings such as the Digital Compliance Officer AI solution of Monivation, will be key in fighting financial crime in a "contactless" society.
---
To prevent the spread of COVID-19 many companies have asked their employees to work remotely. This has included the big tech companies, Facebook, Google, Twitter and Amazon and many of the large Banks. Although this could be described as a forced demo, it is highly likely that remote working could be a long-term change in the modern workplace. Especially if it makes good business sense, with the potential for higher productivity outputs and lower running costs. Contact in the form of face to face meetings, may only occur as and when necessary. Regulators, such as the UK' s Financial Conduct Authority (FCA) have shown support for remote working, as long as there is the appropriate operational stability in place.

Any movement towards a contactless society would require a number of compliance risks to be considered. Examples would include the following:

Contactless payments and digital currencies would likely bring with them an increased threat of cybercrime, as seen with crypto currencies. Hackers and fraudsters could look to steal cash and personal data, which could lead to an increase in companies and consumers being held to financial ransom. To mitigate this risk companies will be required to implement robust and bespoke cyber security and anti-fraud measures.

Contactless relationships in the form of remote working will require companies to have contingency plans in place to deal with major events, such as COVID-19. Companies should expect their contingency plans to be reviewed by the Regulators, who will assess the ability of companies to continue to operate effectively, support their customers and meet their regulatory obligations. An example would be whether or not employees have access to the compliance support they need.
---
In conclusion - Have we seen the end of an era and the first major steps towards a contactless society?

I believe we have. Although it has already been happening, it is clear that COVID-19 has influenced consumer behaviour and forced companies to rethink the way they do business – ranging from remote working, to digitization, to managing compliance risks, such as financial crime. Only time will tell if this drives us towards a contactless society. I for one think this will happen sooner rather than later.
---
Article written by: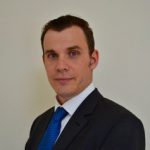 ELLIOTT TURNERBusiness Development Lead
---
---
---
Latest Posts
---