---
---
With less than a few days to go until the implementation deadline of the Financial Intelligence Centre Amendment Act 1 of 2017 (FICAA) on 2 April 2019, compliance amongst Accountable Institutions varies widely. Many Accountable Institutions have invested an enormous amount of time and resources, whilst others are either frightfully unprepared, or still unaware that they are included in FICAA's scope.

Based on my experience dealing with regulatory deadlines and inspections, I believe the following 5 Survival Tips are key:
---
1. Know your Regulator
While the majority of resources and focus are being spent on Knowing Your Client (KYC), there still exists a level of uncertainty amongst certain Accountable Institutions to what Regulatory Body(ies) they are accountable to for financial crime prevention.

The Twin Peaks model of financial sector regulation in South Africa came into force on 1 April 2018. Prior to adopting Twin Peaks, South Africa used the sectoral model which regulated banks separately from other financial firms, such as insurers. For more detail, read a previous article relating to the impact of Twin Peaks on the insurance industry from a financial crime perspective, in particular FICAA. https://www.monivation.co.za/insurers-what-to-expect-from-your-new-fica-big-brother-prudential-authority/

Be sure that you know from who to expect a possible "Notice of Inspection". Rumours are that one or more of these notices have already been issued.
---
2. Have a Solution to the Problem
At this late stage, everyone is trying to implement quick fixes in order to "tick the box", creating a false sense of comfort and assurance that they are FICAA compliant. Out of the box solutions are often used for this purpose, initially seen as a tactical solution, with a strategic view to customise the solution at a later stage. This defeats the purpose of FICAA as solutions should be fit-for-purpose and configured to the particular Accountable Institution's Risk Based Approach (RBA) – no Accountable Institution is identical to another.

Be a pro-active Accountable Institution, prepared with a carefully considered and sustainable solution to FICAA compliance. It should be a detailed action plan to an ongoing challenge – FICAA compliance. Despite still being non-compliant in certain areas of your FICAA implementation, the Regulator might have a bigger tolerance level, patience and understanding if the defined action plan/solution also creates a sense of ownership and accountability by the senior management of the Accountable Institution. Accountable Institutions performing implementation and/or remediation re-actively, upon instruction by the Regulator, might not be as fortunate, as they might postpone their FICAA implementation until it's absolutely necessary - or perhaps even too late, resulting in a heavy administrative penalty.
---
3. Communicate, Communicate and Communicate
A wise man once said: "Verbal communication is one responsibility you cannot delegate, even if you want to".

Communication in the workplace is necessary for any business to succeed, especially where the same deadline is being chased by various departments/projects. A common challenge in large organisations is the lack of synergy in departments – this often results in duplication, wasted efforts and other resources, lack of accountability, a decline in team spirit and ultimately an unhealthy work environment.

A common problem is where an Accountable Institution's on-boarding systems/solutions have been implemented without prior consultation with key stakeholders relating to the required Regulatory Compliance content and unique business requirements - resulting in rework, a non-compliant on-boarding process, as well as possible remediation (which is definitely not an ideal situation to be in on 2 April 2019). In situations like these, Accountable Institutions are often faced with the challenge - and last-minute decision to adapt their business practices and controls to align to a new system.

Effective communication ensures that everyone understands their responsibilities and how to perform them. With an open dialogue, employees pitch in when others in the business need their help, and freely ask for help, in return. Open communication channels display trust, and as Stephen R. Covey states, "When the trust account is high, communication is easy, instant, and effective".
---
4. Don't procrastinate
Perfectionism is the partner-in-crime to procrastination. Until 2 April 2019 (and thereafter), prioritise key actions which are both realistic and achievable, and delegate when necessary. Procrastination is known to keep one stuck in "problem mode" and prevent one from being goal driven and solution focused.

A perfect implementation and compliance status in one aspect do not compensate for non-compliance in others.
---
5. Keep your Composure
Things will go wrong! Accept it - but prepare for it. Developing the ability to weather storms calmly will be instrumental and the ideal armour to deal with any incident and/or issue in a calm and professional manner, allowing for sound recommendations and resolutions to be applied. Overreacting to any problem will create unnecessary noise, might attract unnecessary attention, and could even end up dividing the team(s).

If all else fails, take a moment to "pull yourself towards yourself" and just breathe.

To all the compliant Accountable Institutions out there, who have put in a significant amount of work to be ready for 2 April 2019, well done on all the hard work and effort invested! Do take some time to stop, acknowledge the efforts made, and recharge, but remember – the hard work of continuously monitoring, enhancing and implementing appropriate FICAA controls must go on…
---
Article written by: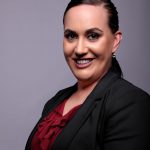 ILZE CALITZCo-Founder & Chief Legal & Compliance Officer
---
---
---
Latest Posts
---